AIRPORT TRANSFER PRAGUE (VACLAV HAVEL INTL)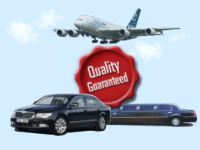 We hope You will find the same satisfaction on this website as we offer to our passengers in our
transfer cars
and
limousines
. Any questions, wishes, complains - call +420 728 876 876 or
send us a message
.
We provide door-to-door transfer services 24/7. We operate at fixed rates - there are no hidden costs, no extra payments.
Reliable Airport Transportation in Prague. Comfortable and fast services. Airport Transfers Prague - Vaclav Havel Airport Intl. We are proud that our satisfied customers often come back. Car hire Prague Airport and other destinations in Prague.
TRANSFERS FROM / TO PRAGUE AIRPORT VACLAV HAVEL INTL.
No. of persons
1 - 4
5 - 8
9 - 12
13 - 16
17 - 20
21 - 24
25 - 50
One way
20 €
31 €
51 €
62 €
82 €
94 €
160 €
Return way
40 €
62 €
102 €
123 €
152 €
180 €
312 €
Car type
Sedan
Minivan
Minivan
Minivan
Minibus
Minibus
Coach
Select currency :
Transfers between Prague Vaclav Havel International Airport and Prague City.
All prices are fixed.
All prices are valid per transfer / vehicle, not per peson.
Selected partners using our transfer services
Car fleet (new pictures, Autumn 2013)
We asked all our colleagues drivers to make a short stop at the Prague Castle (Hradčany) square so we get some fresh pictures of cars we use for transfering passangers Surprisingly more than half drivers could stop and help us. Information about car fleet
Prague Taxi Transfers
Apart from transfers from Prague Airport (Vaclav Havel Intl.) we offer to our clients Taxi transfers in Prague. What´s the advantage of taxi transfers with us? First, you know exactly how much you pay - we will transport you from your hotel to your office in Prague at a fixed rate 10EUR within the center of Prague or 15EUR in the suburbs of Prague or 20EUR to the suburbs (we never exceed the price of the regular Prague airport transfer which is 20EUR). You can rely on absolute promptness and reliability of our chauffeurs as well as on the quality of the vehicle fleet - it does not matter whether you travel business or leisure, our company will always help you to feel comfortable, relaxed and representative!
WHY TO GO WITH ATP - AIRPORT TRANSFER PRAGUE
ENGLISH SPEAKING DRIVERS AND OPERATORS
All of our drivers speak at least basics of English, some of them German, Spanish or other languages. Read more about our drivers.
FREE MAP OF PRAGUE
Ask your driver if you need free map of Prague with printed guide. It is for everyone who has booked airport transfer. Read more - free map of Prague.
CHILD SEAT ON DEMAND - FREE OF CHARGE
Just mention it when you are booking your transfer. Your safety is our primary goal. Read more about child seats.
YOU CAN PAY ONLINE ON THE INTERNET
You can choose among paying on-line on the internet, cash directly to the driver or by card to the driver. There is no change in the price. Read about payment methods.
INSTANT BOOKING & CONFIRMATION
Feel free to book on the internet 24hrs a day. Send sms to +420 728 876 876, or call us. You wil get confirmation within few moments. Book transfer online.
MONEY BACK GUARANTEED
If we cannot do what was promised - on time and reliable transfer service - you can ask for discount or you do not pay. Read the terms & conditions page for detailed information.
Transfer from Prague Ruzyne airport
If you do not want to waste your time, if you want to pay reasonable price, if you want to be transported down to the Prague city in comfort and highest attention to your needs, call us. Your driver will wait at the arrivals(inside of public meeting hall) of Vaclav Havel (Ruzyne) International Prague airport and take you downtown the most effective way. Book private Prague airport transfer.
Transfer to Prague Ruzyne airport
We offer a risk-free hotel transportation to the Prague Airport. Book your departure transfer on-line or with your driver on the way from airport. Return journeys (2 transfers) are discounted. The driver will collect you from the hotel reception and will transport you to the Vaclav Havel (former Ruzyne) Airport the quickest way. You will be transported in comfortable car. Private transfer - no shuttle! Book transfer from Prague to Vaclav Havel (Ruzyne) airport.
Ski Resorts
Nice mail from Richard
Dinner with the Folklore
New pictures of cars
Transfer Prague Harrachov