Dinner with the Folklore
15.1.2017
Come and enjoy Folklore evening in the heart of Prague.
New price of the Folklore evening. 1.000 CZK (original price 1.180 CZK)
A special package for the clients of Airport Transfer Prague - The Folklore evening in Prague.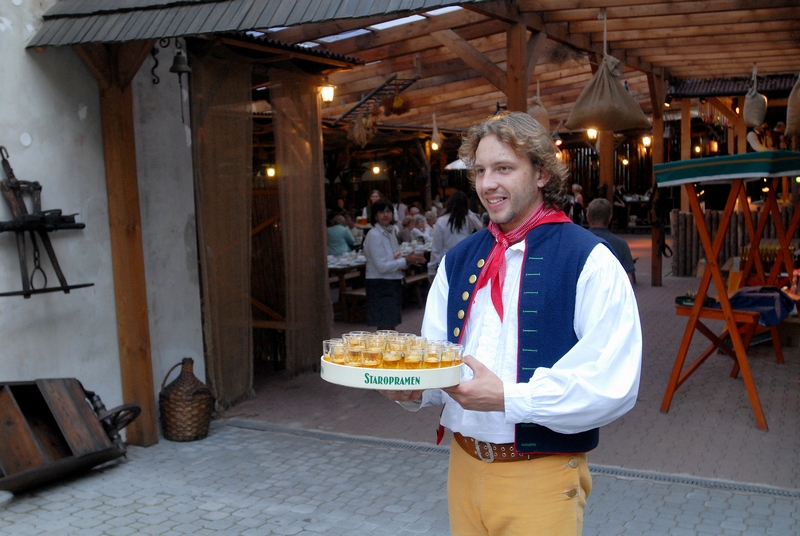 Let us transport you to a traditional Czech restaurant in Prague where you enjoy unforgettable atmosphere of the Czech folklore. You will be served traditional Czech dinner and you eat how much you want/can and also the number of drinks is unlimited. During the 2,5 hours show you will be entertained by our wonderfull ensamble of dancers and musicians dressed in traditional clothing. You are more than welcome to take an active part in learning the Czech songs, dances, and games.
The whole evening with the transport by Airport Transfer Prague costs now only 1.000 CZK (40 EUR) whilst the original price was 1.180 CZK.
We will pick you up at your hotel and transport you to the place (the transfer takes about 30 minutes depending on the location of your stay in Prague) and the driver will wait until the show is over. If you decide to stay longer we just rearange the pick up time and will transfer you later.
The Program of the Folklore Evening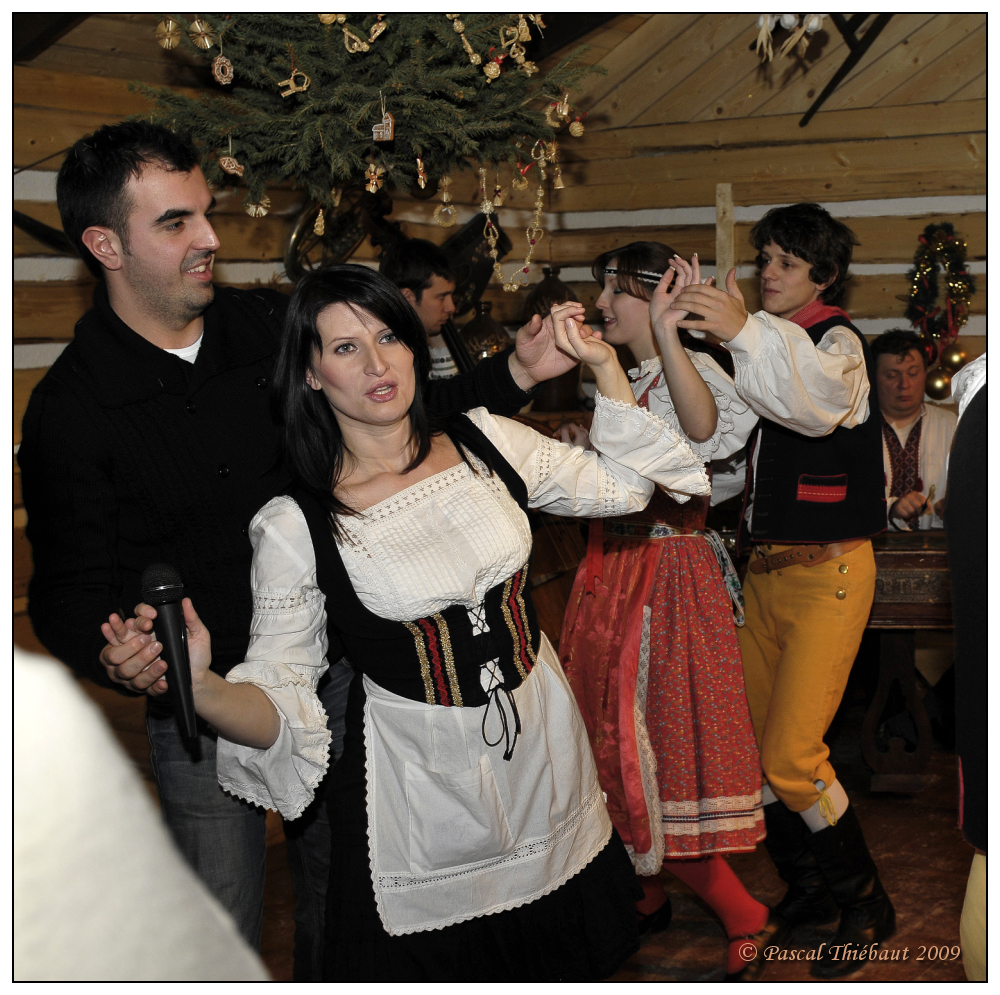 Upon your arrival to the folklore restaurant you will taste "Medovina" - traditional Czech sweet liquor made from honey. You will be seated at the large tables full of traditional Czech dishes - there is a variety of food at your choice. You are more than welcome to eat and drink how much you want / can.
Don´t worry to take part in the show. Stand up and take your partner and try some of the Czech old dances.
The program includes a full folklore show performed by professional dancers, musicians, and skilled moderator, dressed in traditional Czech clothing. During the show, guests will be encouraged to take an active part in singing and dancing, by participating in the singing and dancing guided by our performers.
International songs will be played during the last part of the evening according to the guests' nationality followed by a dancing party and singing contest. The show lasts two and a half hours, from 20:00 or 19.00 to 22:30 or 21.30.
Our main goal is to entertain, excite, and amuse all of our guests while enriching them with an unforgettable authentic experience.
The folklore restaurant
The Wooden House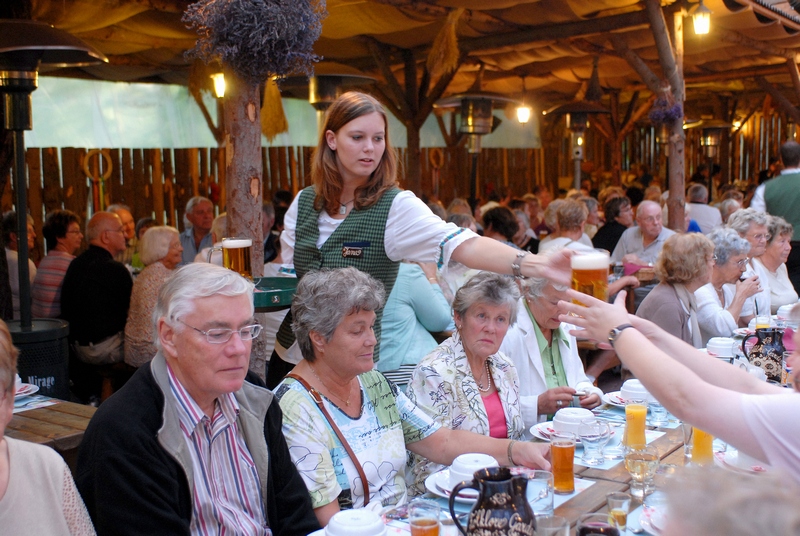 The Folklore timbered house has capacity of 150 seats and during summer time the capacity goes up to 300 seats, including summer garden and terrace.. The interior is molded in a village style further enhancing the Czech countryside atmosphere. The wooden house is fully heated.
Summer Garden
The garden surrounding the castle is molded and decorated on such a way to give an authentic traditional Czech village atmosphere. It can accommodate up to 400 people. The restaurant's area is equipped with heaters, in case of unfavorable weather conditions.
Reviews & Testimonials
"Terrific dinner and very nice show!"
After searching for a medieval show that was non-smoking for my mother to enjoy and finding none, I discovered one other option, the Folklore Garden show. I read some reviews and decided that this was the best for us, and it was. We were picked up by the Folklore Garden min-van in front of our hotel at the time given us. While this was a min-van that had other stops to make, it was fun getting to know the other people in the van. We headed to the garden and arrived a bit late since one of the parties we were picking up was a "no show" which we waited for more time than I thought we should have. I was a bit upset that we had arrived so late since I had read about the small village surrounding the garden and had inquired if we would arrive in enough time to tour it. I was told we would but with the lengthy delay, when we finally did arrive, it looked closed. We were escorted from the van to the main floor which was mad up of long tables with bench seating. Upon arrival you are given a honey wine welcome drink which I thought was wonderful and purchased a few bottles before I left for I think 6 Euro a bottle. The food was excellent, I loved the soup, the main course of chicken, meat and pork with potatoes and something else, it was all very good. I really enjoyed the dancing and the costumes and was even asked to participate in some of the dancing, which I did, and thoroughly enjoyed it. It was so much fun!! I am very glad I decided to book the show and dinner, it was very reasonably priced at 1,200 CZK (about $69.92 pp) for pick-up at hotel; drop off at hotel, a wonderful dinner and a colorful show with free drink and a free welcome drink. I thought it was terrific. I would definitely do this again, the village was very quaint and well decorated and of course…..NO SMOKING which was a HUGE plus for my mother's comfort. Visited September 2011
"A wonderful place--I just wish the crowd was better."
We went to Folklore Garden on our last night in Prague. I feel of two minds in writing about it. There is the location itself...and then there are the customers. The location is way on the SWest part of Prague, but they take care of that problem easily- if you are not part of a group being bussed in, they will use taxis to carry you to and from your hotel. There is no added charge for this! The single price includes a warm-up drink on arrival, a sort of warm honey wine (I would have liked more of) and your complete meal and all drinks, plus a music and dance show. Seating is communal, at long tables. The food is "good." Not great, but good. We found the soup very good, the main course pretty good, and the dessert just fine. Others at our table said the white and red wines were not very good. The beer was great! They also offer fruit juices and soft drinks. The real high points for us were the "show." They had a live, 6 piece band, playing a range of Czech, Bohemian, Moravian folk tunes and 4 or 5 couples, wearing various folk outfits (they changed 3 times during the evening) and doing folk dancing. We had seen folk dance at an event elsewhere in Prague and this seemed just as good, authentic, etc. It would be a "don't miss" evening... except... It seems like their primary customer base is "tour groups." There were about 125 people there that night, and maybe 8 or 10 did not come with a tour group. Wide range of folks-- Americans, Brits, Italians, Japanese, Australians, Rumanians, and even a group from Argentina, plus stray couples from France, Sweden, and even from Prague. They tend to be a noisy group, talking loudly to each other more than paying attention to the show. I can accept that, but it did grow tiresome hearing people bleat about where they used to work or what their grandchildren were doing while a nice folk vocal was being performed. Many took the music to just mean "talk louder." We had lots of the real bad tour group experiences-- guys who stand in front of people to get that one great picture or shoot some video, but then ignore the show most of the time. The "emcee" was very good at working this sort of a crowd (including being able to say "hello" in about 10 languages) and aimed to make it a "fun" experience for the masses. He was very good at doing what he does...I'm just sorry for what he had to do. So that makes this a mixed blessing. We found nothing else in Prague offering this "folk" experience on a regular basis. This place is very well run and one of the best values-per-price we saw on the entire trip. But the customers! yech! Still, I would go again. And I would recommend it to others, with that advanced warning.
Ski Resorts
Nice mail from Richard
Dinner with the Folklore
New pictures of cars
Transfer Prague Harrachov