PRAGUE AIRPORT - VACLAV HAVEL INTERNATIONAL
(former Ruzyne intl.)

Prague Airport name: VACLAV HAVEL (formerRUZYNE [ruzynje])
Ruzyne is also name of a quarter (area) in Prague, it is west suburb of Prague (former village Ruzyne), so the Prague airport is was named after that (The Prague Airport changed its name in the second half of 2012 year after the former president of the Czech Republic, Vaclav havel, died (I think it happened at the end of 2011) - you can read news in the lower part of this page. The airport is located aproximately 2-3 km from the suburb Ruzyne and you can get there by car within 5 minutes. The airport is located about 16 - 17 km (10 miles) from the Prague Center, the travel time is about 30 minutes in the average traffic. During the weekends you can get from/to the Prague airport to/from the center easily in 15 minutes, but in a heavy traffic double the time. It is good to count on it when booking a taxi with Airport Transfer Prague.

Prague Airport international code: PRG (IATA) or LKPR (ICAO)
There might be different Prague airport codes than PRG or LKPR, but these ones are the international codes of Ruzyne airport and are used in most occasions, flight identifications etc..

Prague VACLAV HAVEL (Ruzyne) Airport official website
www.prg.aero and www.prg.aero/en in english. That is the website we use when checking on the staus of your arrival to Prague - you can find information about arrivals and departures, list of services, parking at Ruzyne airport etc..

VACLAV HAVEL (Ruzyne) Airport Map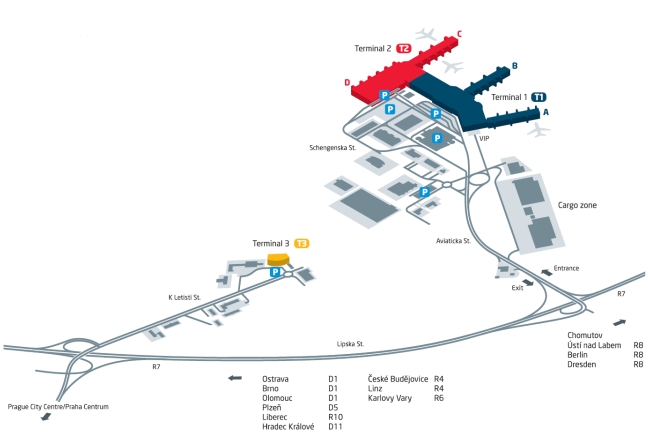 Vaclav Havel (Ruzyne) Airport Location
Prague Airport Vaclav Havel (Ruzyne) International is located about 5km from the west border of Prague City (exactly from the suburb called Ruzyne) and approximately 20km from the Prague center. It was founded in 1937 and has been serving as International Prague and Czech Republic airport since then.
Prague airport Vaclav Havel Intl. is the largest Czech Republic airport which served to almost 13 milions passengers in 2008 year and the number of passengers has been raising steadily.

Prague Airport Terminals
The Ruzyne airport is splited into 2 main parts - South and North. South part (Terminal South - Terminal Jih) serves mostly to government or VIP flights, occasionally the "ordinary" international arrivals in Prague are directed to Terminal South.
North part of Ruzyne airport is splited into two Terminals - Terminal 1 (Terminal North 1 - Terminal Sever 1) and newly built Terminal 2 (Terminal North 2 - Terminal Sever 2) and serves as a main international passenger airport in Prague and Czech Republic.

Terminal 1 of Vaclav Havel (Ruzyne) airport
International flights from Non Schengen Pact countries (Great Britain, United States of America, Russia, South Korea etc..). We mostly collect clients from England, Ireland, Scotland or Wales in arrival hall of Terminal 1 and provide taxi service between Prague city and Prague airport.
Important information for our transfer clients: when booking a transfer from Prague airport, be notified that it takes approximately 30 minutes until you get through the baggage claim area. Approximately means approximately. If you travel solo with just a handcase, you can slip through the airport controls quickly - let´s say in 10 minutes. On the other way, if you are a larger group or if you got bad luck with your luggage (well, we wish it would never happen to you, but shit happens and it is good to be informed), than it can take 1 hour or more from the plane landing until you meet your chaffeur! Your driver will wait for at the arrivals you anyway, until you show up or until he gets the information why to stop waiting (it can happen that our office instructs him that you hadn´t arrived or he get info from the airport stuff that there is no more passengers from your flight). Please, when you face some troubles like that (luggage etc.) turn on your cellphone and let us know. It woul save some nerves. Thank you!
Terminal 2 of Vaclav Havel (Ruzyne) airport
International flights from/to Schengen Pact countries like Norway, Sweden, Danmark, Finland or Spain, Italy etc. The Terminal 2 of the Prague airport is divided into 2 floors. The ground floor - arrivals and the upper floor (or 2nd floor) - departures. Our drivers wait for you at the arrival hall (ground floor) - it is easy to meet and on the departure they will stop at the upper parking lot just in front of the entrances of the departure hall of the Terminal 2 Prague Airport so you just enter, will find your departure check-in desk.
PRAGUE AIRPORT NEWS
A new name for Prague Airport?
Summer 2013
Prague airport repaires some of the take-off and landing runways so the flights are directed into different flight corridors. People from Prague West suburbs (eg. Ruzyně, Zličín, Stodůlky etc.) have now interesting sight of the planes flying pretty low above their homes. Someone made a survey how much people complain and the result was a surprise: most people say that cars and trams make louder noise than planes! Anyway, how often you can watch landing plane or the one taking off just 100 meters above your balcony or garden. We also joke about it with our drivers: "Listen guys, you dont need to watch internet, just relax, drink your cofee and - look - isnt it your Lufthansa from Frankfurt arriving to Prague? So take your time, finish your coffe, you still have got 15 - 20 minutes to get to the arrival hall" :-)
Mar 22nd 2012
So it looks like it is really happening: they are really going to change the name of the Prague Airport. It is still unofficial, but it will probably happen: the Prague airport will change its name from Ruzyne to Vaclav Havel.
Feb 21st 2012
Some Czech people suggest and trust that Prague Ruzyne Airport should have changed its name to the Airport of Vaclav Havel. If you never heard about Vaclav Havel - he was the President of the Czech Republic for between years 1993 and 2003, also one of the famoust disidents and fighters against the communistic regime here in the Czech Republic. Well, i don´t know if it is a good idea or a bad idea to rename the Ruzyne Airport towards the Vaclav Havel airport (it sounds similar like the Paris airport is named after the General DeGaul). Anyway, we can promise that it will not have any impact on the quality of our service or it will not raise the price of the Prague Airport Transfers :)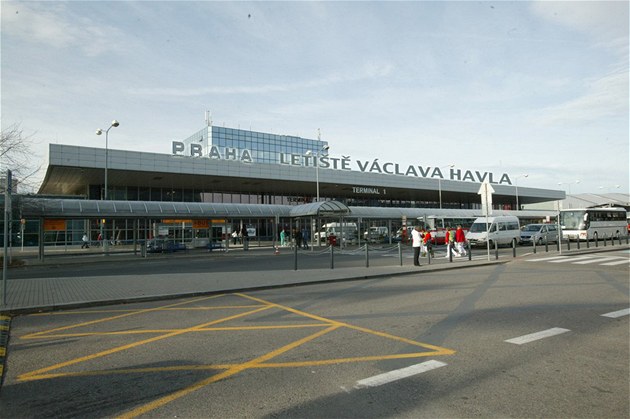 A pilot died during flight from Warsaw
Feb 16th 2012
The captain of the CSA (Czech Airlines) had passed away on the regular flight from Warsaw to Prague. Copilot(s) had landed safely on the Prague Ruzyne airport so there was no threat for the passengers of the aircraft. They say that part of the problem is constant stress raising among pilots in the CSA.
Malev airlines has cancelled all flights today
Feb 3rd 2012
The Malev airlines has cancelled all their flights to/from the Ruzyne airport today. You can use our taxi transfer to Budapest at a discounted price 10%. Please ask for the discount in the booking formula in the field "note". It seems that Malev collapsed and will not operate between Prague and Budapest any longer, but we have to verify the info first.
Prague airport departues
Departures from Prague airport
Well it is a good rule to get to the airport(s) in a good advance. Every check-in opens 2 hours before the departure and closes 40 minutes before the flight actualy takes off. I remember one day in Prague - i think it was spring/summer 2007. An accident happened in Kartouzska street, a firemen lory flipped on its side in the sharpe curve round Tesco store and blocked that street. Since it is very important street (not only for the direction to the Prague airport), half of Prague was paralyzed by that. I was collecting passengers from Hastalske square - it was a young family with, I think, 2-3 years old boy. We were talking while standing in car queues on the Jiraskuv bridge over Vltava when I got the information that the traffic jam in Prague that day wasn´t the ordinary one. For one hour we made no progress at all. I started to be nervous and tried to call the office of their air company, but I could not reach them. After almost 1.5 hours in the worst traffic jam we finally got to the "free" road and I started to do my job - get the clients to the Prague airport on time! I will not tell you the details, but in one moment the lady at the back seat hissed (when I was passing a bus 20 cm next to it). Actually we got to the Prague airport departures of Ruzyne Terminal 1 parking lot just at the time they were closing the check-in. Running with the luggage we jumped into the departure hall and there was nobody in there! After a moment of dissapointment i suggested not to give up (the plane hadn´t left yet), so we started to run round all the possible offices at the Prague airport, finally we found a (fat) man who was able to help us. The plane - thanks God - was delayed and so they let the family enter their flight.
Prague hotel pick-up 2-2.5 hours in-advance
We always recommend our passengers to get ready and leave their hotel in Prague 2 - 2.5 hours before the scheduled departure from the Prague airport. The approximate lenght of transfer from Prague center to the airport is 30 minutes, in rush hours 45 minutes, but you can never say what can happen.
Ski Resorts
Nice mail from Richard
Dinner with the Folklore
New pictures of cars
Transfer Prague Harrachov