Transportation to Ski Resorts in the Czech Republic
Transfers to ski resorts in The Czech Republic - the listed prices are calculated for transfers from Prague Airport or Prague City Center to the required destination. In the case you want to be transported from another place in the Czech Republic just contact us so we can send you the quote. Return transfers are discounted.
Transfers to Krkonose Mountains (Giant Mountains)
| Destination | Distance / Travel Time | Transfer price (sedan/minivan) |
| --- | --- | --- |
| | 150km / 2h 40min | 125 / 135 EUR |
| | 160km / 2h 00min | 123 / 154 EUR |
| | 186km / 3h 00min | 133 / 166 EUR |
| | 128km / 1h 30min | 125 / 158 EUR |
| | 170km / 2h 30min | 121 / 150 EUR |
| | 130km / 1h 40min | 125 / 158 EUR |
Transfers to Jizerske Mountains
| Destination | Distance / Travel Time | Transfer price (sedan/minivan) |
| --- | --- | --- |
| | 120km / 1h 30min | 113 / 141 EUR |
| | 120km / 1h 30min | 113 / 141 EUR |
| | 110km / 1h 20min | 102 / 133 EUR |
| | 120km / 1h 30min | 113 / 141 EUR |
| | 120km / 1h 20min | 113 / 141 EUR |
Transfers to Jeseniky Mountains
| Destination | Distance / Travel Time | Transfer price (sedan/minivan) |
| --- | --- | --- |
| | 230km / 2h 50min | 180 / 228 EUR |
Transfers to Sumava Mountains (Bohemian Forest)
| Destination | Distance / Travel Time | Transfer price (sedan/minivan) |
| --- | --- | --- |
| | 170km / 2h 10min | 129 / 162 EUR |
Czech Ski Resorts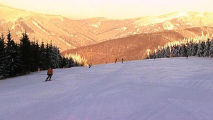 Winter is now in full gear, and so is another popular activity in the Czech Republic: skiing. While the Czech Republic doesn't have the highest mountains or best slopes in Europe, there are plenty of ski resorts in the country, stretching from the German-Czech border to throughout Moravia. Intensive skiers are likely to look elsewhere, though: the Austrian Alps, for example, are a nine hour car ride from Prague, and boast competitive prices for skiing and lodging (though food – eating out – and other goods will be more expensive) and some of the best all-around skiing in Europe. The average height of a mountain in the Alps is nearly twice that of the tallest mountain in the Czech Republic, and the resorts are also best equipped for sport. For fun, however, there's no shortage of places to ski in the Czech Republic, some of which are just an hour from Prague.
First off, an invaluable resource for skiing in the Czech Republic:
This site gives you up-to-date information on everything you need to know about a particular mountain/resort: skiing conditions, amount and type of snow, temperature, maps and more; even updated (hourly) stills and price lists for most of the resorts, grouped together by mountain range. All of the information on the site – including a brief description for most of the resorts – is in English.
So…where to ski in the Czech Republic?
The mountains in the Krkonoše [krkhonoshe] - translated into the English as Giant Mountains - range, located at the Czech-Polish border near Germany (about 1-2 hours north of Prague) are some of the most popular. The resorts in Krkonoše include Špindlerův Mlýn (Svatý Petr), Harrachov, Pec pod Sněžkou, Prkenný Důl - Family Skipark, along with many others. The skiing here is generally the best in the Czech Republic: the resorts have the best equipment and the slopes are well maintained; the area is where many winter sporting events are likely to take place. Krkonoše also boasts the highest mountain in the Czech Republic, Sněžka, which is about 1600 meters tall. The area also features the highest volume of tourists: during peak seasons (generally Christmas through early March, though mid-January usually sees a decline in volume) some resorts can become overcrowded, meaning some long waits to get up the hills. Špindlerův Mlýn is likely the most popular resort in Krkonoše, and thus the Czech republic as well; it features an abundance of hotels, pensions, slopes, cross-country skiing trails, and areas for other winter sports, and likely the best maintenance of all of it. The prices for skiing and accommodation at Špindlerův Mlýn are also some of the highest in the Czech Republic, comparable to the Austrian Alps.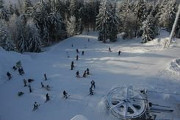 The Jizerské hory range, 60km west of Krkonoše and an hour north of Prague (by Liberec near the German-Czech border), is another somewhat popular range, though much less so than Krkonoše. There are a number of slopes and resorts, and while the skiing may not be the best in the Czech Republic, there are also some interesting attractions. Hotel Jested boasts an impressive tower on top of a large mountain (see: www.jested.cz), and Liberec also features aquapark Centrum Babylon (www.centrumbabylon.cz). A package deal including passes for the aquapark, skiing, and transportation from Prague can be purchased, and would make for an interesting weekend (or longer).
Further west, by the German-Austrian border, are the mountains of Šumava. The mountains here have a lower elevation, but the resorts are cheaper and less crowded. The area is also better for families and beginners, with many ski schools and easier slopes. Resorts here include Špičák and Kašperské Hory.
The mountains of Krušné hory, at the border of Germany and North Bohemia, are much cheaper and less crowded, but they are also not as well-equipped. Orlické hory is another similar range: 60km behind Krkonoše near the Czech-Polish border, the mountains have a lower elevation, the area is cheaper and less crowded, but the slopes can't compare to Krkonoše. Both of these mountain ranges are more recommended for their cross-country trails, with some interesting sights, both natural and man-made.
Further from Prague are a couple of Moravian ranges deserving of mention. Jeseniky, about four hours northeast of Prague by car, is one of the more popular ranges in Moravia, with one of the highest mountains in the Czech Republic – Praded. The downhill skiing at the Jeseniky slopes is some of the best in the Czech Republic after Krkonoše, and although the area is very popular, it's a huge range with many resorts, meaning overcrowding usually isn't a problem. The area also receives a lot of snow, especially compared to the Bohemian ranges. Also in Moravia is the smaller range of Beskydy, 3-4 hours East of Prague, which doesn't have the elevation or top downhill skiing of Jeseniky, but does offer some nice cross-country trails through untouched nature, and a very relaxed atmosphere with traditional Czech culture and folklore.
There's plenty of other mountains and ski resorts throughout the Czech Republic as well; We've only listed the more popular ones. While the intensive skier may want to head to the Alps or elsewhere, the casual skier should find plenty of fun throughout Czechia.
CZECH REPUBLIC
Almost 12% of the Czech Republic's territory is made up of national parks, and almost all sport centers of this country are located in these national parks. There are about 200 resorts in the boundary areas of Bohemia and Moravia.
Czech mountains are not high: the main peak, Snezka, rises just 1602 m above sea level. But ski resorts located in the forests and on mountain glades seem to be very cozy. Here, at small elevation, perfect conditions for skiing and rest have been created.
The Krkonose massif located 130 km north-eastward of Prague with its resorts of Spindleruv Mlyn, Pec pod Sněžkou, Harrahov, Janské Lázně is especially popular among alpine skiers. The snow cover here lasts from November till April; its average thickness is 1- 3 m. The resorts of Krkonose are distinguished by groomed trails and modern technical equipment. Mountain sides are covered with forests up to the elevation of 1300 m, and then follow the meadows with the broken masses of dwarf pines.
The Jizersky Mountains south-westward of Krkonose have a lot of interesting slopes for skiers of different levels. Moravian Jeseniky Mountains with their resorts of Cervenohorske Sedlo, Ovčárna and others are considered to be perfect for beginners and most affordable regarding prices. Czech / Bohemian Forest (the Šumava Mountains) with its mountain plateau at the elevation of 1000 – 1100 m is rather for cross country skiers. Roznov and Frenstat from where one may easily rich the slopes of Radhošť (1129 m) – are sport centers in the Beskidy Mountains on the Polish and Slovakian boarder. The Ore Mountains on the German boarder are known for their steep slopes.
Check this site for reservations of transfers from Prague to various ski resorts in The Czech Republic.
Ski Resorts
Czech Republic has lots to offer when it comes down to ski resorts. You may try out plenty of their options and activities offered and relish first-class skiing conditions. ATP Airport Transfer Prague is here to help you to get there - in comfort, style and at a reasonable price. Check out the price list of the transfers at the top of this page. We trust that traveling with us will satisfy your needs.
Ski Resorts
Nice mail from Richard
Dinner with the Folklore
New pictures of cars
Transfer Prague Harrachov