Transfer to ski resort Sumperk
Transfers from Prague Airport or City Centre.
distance from Prague: 150km (100miles)
duration: 2 - 2,5 hrs depending on the weather and the traffic conditions
Transfer from Prague to Sumperk (4 passengers)
one way*
4400 CZK (180 EUR / 150 GBP / 264 USD)
return trip**
7920 CZK (325 EUR / 269 GBP / 495 USD)
prices per vehicle (limousine - sedan VW Passat, Skoda Superb, Mercedes E)
Transfer from Prague to Sumperk (8 passengers)
one way*
5550 CZK (228 EUR / 189 GBP / 333 USD)
return trip**
9990 CZK (410 EUR / 340 GBP / 599 USD)
prices per vehicle (minivan - Mercedes Vito or Viano, VW Caravelle or Transporter)
* that is trip from Prague to Sumperk or from Sumperk to Prague
** this means you book transfer to Sumperk and return in separate days. In the case you go to Sumperk and will be returning in the same day, the driver will wait for you. Then we will charge 200,-CZK per 1 hour. It is cheaper than book return transfer.
Example: You will arrive at Prague airport at 8am and get to Sumperk at 10am. You need to be back in Prague at 8pm so you will be leaving Sumperk 6pm the latest. Then the price will be 3000,-CZK + 8 x 200,-CZK = 4600,-CZK.
Booking of transfer Prague <-> Sumperk
online booking on this website - after sending reservation form you will get automatic confirmation email. In next few hours a reply from live operator will succeed to. In this message, there will be confirmation (refusal) of your reservation and voucher with all necessary details.
phone booking or sms booking - phone nr. 00420 728 876 876
e-mail booking (you can use this contact form or directly to info@airport-transfer-prague.eu)
Sumperk / Jeseniky ski resort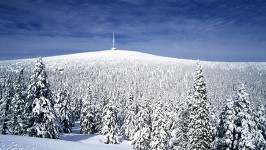 Šumperk is a district town in the East part of the Czech Republic called Moravia in the North Moravian region. By its location it is good access point to Jeseniky Mountains ski resorts.eseniky mountains surround Sumperk from east and north. It can be good idea that you choose Šumperk as your accommodation point and you go and explore the Jeseniky mountains and the ski slopes from there.
Jeseniky Mountains
Main advantage of Jeseniky Mountains as a ski area is that the mountains are lucky with both quantity and quality of natural snow which covers the slopes for more than 4 months every winter season. Btw. the most of the ski resorts in Jeseniky are equipped with snow cannoons and are able to keep the slopes ready for skiing even if the natural snow is not available at the moment. Also the prices are lower than for example in Krkonoše (Giant) Mountains. In the case you are looking for a good rate quality / price for siing in the Czech Republic, try and go to Jeseniky Mountains.
Ski centres in Jeseniky Mountains / round Sumperk

Ski slope
Altitude / Difference
Slopes (easy / interm / diffic)
Lifts
Lift ticket
Červenohorské sedlo

736 - 1013 m
277 m
5.9 km (3.8 / 1.1 / 1 )
9
CZK 500
€ 20
Malá Morávka / Karlov

680 - 695 m
15 m
13.7 km (9.3 / 4.9 / 0.5 )
16
CZK 450
€ 18
Praděd / Ovčárna

680 - 720 m
40 m
0.4 km (0.2 / 0.2 / 0 )
1
CZK 300
€ 13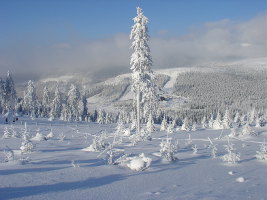 Just as the Krkonoše are ruled by the legendary giant Krakonoš, the lord and good spirit of the Jeseníky Mountains is Praděd. Legend has it that his home is located in the mountain of the same name, where you can ski at the highest-altitude ski resort in the Czech Republic.

The highest pistes in the Czech Republic!
At the summit of Praděd, at 1,492 m the highest peak in the Hrubý Jeseník range, and Moravia as a whole, is a TV transmitter with a restaurant and lookout tower. Marked routes for hikers and cyclists lead in all directions from this spot, with the famous ski resort open in the winter.
The ski tows and pistes can be found on the north face of Petrovy kameny peak (1,438 m) above Ovčárna chalet. The skiing areas start at altitude c. 1,300 m, ensuring the best possible conditions for skiing in the resort. Here, the season often starts as early as the end of October, and the snow usually stays until the beginning of May. The pistes are suitable for all proficiency levels, from beginner to advanced. You can also try out the snow park and evening skiing, and there is also a skiing school, children's skiing and equipment rental.

Skiing in protected areas
However, as the resort is located on the territory of the Jeseník Mountains Protected Landscape Area, all operations, including the ski tows, are subject to environmental protection laws, the key to which is depth of snow coverage. That's why you should make the most of not just the pistes themselves, but also the uncommon views, as Petrovy kameny and the surrounding meadows are otherwise only accessible in the winter!
The large parking areas from which ski buses take you to the Praděd ski complex are located at the Hvězda crossroads and in the nearby spa town of Karlova Studánka. Karlova Studánka is a must-see: with the cleanest air in Central Europe, The New York Times ranked it and the Jeseníky Mountains amongst the most interesting hiking locations in the world!

Summer at Praděd: take a look around!
Apart from the marked cycling and hiking trails leading in all directions from Praděd, another must-see is the famous lookout tower, reminiscent of a spaceship at take-off. A lift takes visitors to the circle-shaped viewing platform, 73 m up. Under ideal conditions, visitors can see a large part of Central Europe, from the Krkonoše to the High Tatras and Malá and Velká Fatra ranges in Slovakia. The Beskids, including Mount Radhošť and Lysá hora, the Dlouhé Stráně Water Reservoir, Bruntál and Rejvíz can also be seen under these conditions.
Ski Resorts
Nice mail from Richard
Dinner with the Folklore
New pictures of cars
Transfer Prague Harrachov