Grand tour of Prague "The grand combination of our walks"
Price: 450 CZK / person
discounetd price for full-time students under 26 and seniors over 65
children under 12 go free if accompanied by their parent

Daily at 11 a.m., lasts 4 hours
Includes a tram ride and "Walks of Prague" CD

please contact us for further information, individual walks, foreign languages or for any other requests

How to join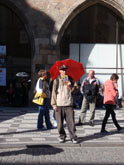 meeting point for all the walks is next to the Astronomical Clock on the Old Town Square
your guide will be waiting for you with a red umbrella
You can take transport to the meeting point. Our driver will pick you up at the hotel reception. When the tour ends, the driver will be waiting at the tour finish point to take you back to the hotel. The complete price list of the transportation you can see here.

This carefully selected walk covers all the most important sights of Prague and seeing it with a great guide is like having the past suddenly rise to the surface. We stroll around the famous historical Prague quarters – OLD TOWN, JEWISH QUARTER, NEW TOWN, LESSER TOWN AND PRAGUE CASTLE.
It starts on the Old Town Square with a general introduction to Prague. Admiring the impressive composition of old buildings and churches we also become acquainted with the life of the Czech reformer John Huss.
A visit to the Jewish Quarter leads us back to its tragic history. You discover the destiny of Prague Jews living behind the wall of the former Ghetto. Old-New Synagogue, Old Jewish Cemetery, the Jewish Museum… visit with us the places where the fabulous Golem was created and follow with us in the footsteps of the famous Jewish writer Franz Kafka.
Crooked lanes lead us back around other keyholes into Prague's past, the medieval courtyard Ungelt, the Charles University since 1348, Mozart's Don Giovanni in the Estates Theatre... The Wenceslas Square gives us a testimony of 1968 when the Soviet tanks arrived until the year 1989 when the Velvet Revolution brought democracy again.
Crossing the Charles Bridge, the real "open gallery under the sky" we reach the great St. Nicholas Church on the beguiling Lesser Town Square and then Prague Castle, one of the biggest fortresses in Europe. This "city within the city" hides the Old Royal Palace, the Basilica of St. George, the presidential office, the Golden Lane… and the treasure of the architecture of the St. Vitus Cathedral. The walk finishes with a charming view of Prague, the city of a hundred spires.
It is really easy to walk, simple to understand and great to enjoy!

Ski Resorts
Nice mail from Richard
Dinner with the Folklore
New pictures of cars
Transfer Prague Harrachov