Transfer to ski resort Harrachov
Airport Transfer Prague company provides fast & safe & cheap transfers to ski resort Harrachov (often misspelled as Harachov) from Prague Airport or City Center. Return trips are discounted. We provide door to door service 24/7. Book your transfer to Harrachov online on this page or call us.
distance from Prague: 160km (100miles)
trip duration: 2 - 2.5 hrs depending on the weather and the traffic conditions
Transfer Prague - Harrachov (1 - 4 passengers)
one way*
3000 CZK (123 EUR / 102 GBP / 180 USD)
return trip**
5150 CZK (211 EUR / 175 GBP /309-USD)
Prices per vehicle / transfer = not per person
(limousines - sedan VW Passat, Skoda Superb, Mercedes E)
Transfer Prague - Harrachov (5 - 8 passengers)
one way*
3750 CZK (154 EUR / 128 GBP / 225 USD)
return trip**
6400 CZK (262 EUR / 218 GBP / 384 USD)
Prices per vehicle / transfer = not per person
(minivan - Mercedes Vito or Viano, VW Caravelle or Transporter)
* that is trip from Prague to Harrachov or from Harrachov to Prague
** this means you book transfer to Harrachov and return in separate days. In the case you go to Harrachov and will be returning in the same day, the driver will wait for you. Then we will charge 200,-CZK per 1 hour. It is cheaper than book return transfer.
Example: You will arrive at Prague airport at 8am and get to Harrachov at 10am. You need to be back in Prague at 8pm so you will be leaving Harrachov 6pm the latest. Then the price will be 3000,-CZK + 8 x 200,-CZK = 4600,-CZK.
Booking of transfer Prague <-> Harrachov
online booking on this website - after sending reservation form you will get automatic confirmation email. In next few hours a reply from live operator will succeed to. In this message, there will be confirmation (refusal) of your reservation and voucher with all necessary details.
phone booking or sms booking - phone nr. 00420 728 876 876
e-mail booking (you can use this contact form or directly to info@airport-transfer-prague.eu)
A client said about transport to Harrachov with us:
Hello Martina,
I want to tell you that the service was very nice. The driver (I think his name was Jerry) was so kind and a pleasant company.
Will you please say to him that we are very satisfide.
If we are coming to Tsjechie, to a ski resort (Harrachov) and we need a car we will certain mail you for an arangement.
Thank you very much for the service.
With kind regards,
Anita L
Harrachov ski resort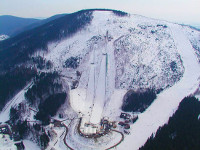 Harrachov ski resort is together with Spindleruv Mlyn one of the two most popular and most visited ski areas in the Czech republic. The town and ski resort Harrachov is located in the northest corner of Krkonoše Mountains (translated to English as Giant Mountains) near to town Šluknov, just 4 - 5 k from the border with Poland. The town Harrachov has about 1.500 citizen (2013). After the Velvet Revolution (1989, when communists gave up the power in the Czech Republic) Harrachov started great development as a popular tourist resort.
Harrachov is not only popular for skiers and snowboarders during the winter, but it also offers a lot of activities during the summer season. Harrachov as a ski resort is mostly famous by its ski jumps which hosted couple of World and European ski jump events. The origin of the Harrachov Ski Jumps is dated back to 1920th. In the 1954 the famous Harrachov Mamooth Ski Jump (K-185) was built, it is the highest ski jump in the world. In the 90ies of the 20th century the funicular upon the Čertova Hora (Devil Mountain) was also reconstructed and it offers 130 four-seated cabins and a trip long 1303 m which is done in about 9 minutes. The transport capcity of Harrachov / Certovka funicular is almost 1800 of passengers per hour.
The resort will acomodate The Ski Flying World Championship Harrachov 2014 which will take place from March 13th to March 16th 2014!
Among the newest attraction you can find in the ski center Harrachov a bob sledge.
For the downhill skiing Harrachov offers 1 big and 2 small ski pistes - Čertova Hora with 8 km of slopes of all three difficultness and Hřebínek and Zákoutí, both beautiful Czech names, hřebínek means little (cock) comb or crest or little mountain ridge and zákoutí could be translated into English the best as nook. Both of the small slopes are more convenient for beginner skiers, children or seniors.
Ski slopes in Harrachov ski resort

Ski slope
Altitude / Difference
Slopes (easy / interm / diffic)
Lifts
Lift ticket
Harrachov / Čertova Hora

650 - 1020 m
370 m
8 km (4 / 3 / 1 )
5
CZK 590
€ 23
Harrachov / Hřebínek

680 - 695 m
15 m
0.2 km (1 / 0 / 0 )
1
CZK 300
€ 13
Harrachov / Zákoutí

680 - 720 m
40 m
0.4 km (0.2 / 0.2 / 0 )
1
CZK 300
€ 13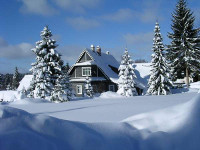 The ski center Harrachov is equipped with snow canoons. The ski slopes are open for both skiers and snowboarders.
The biggest attraction in winter is the ski-centre Harrachov that is equipped with snow cannons. Harrachov ski slopes are open both for skiers and snowboarders. Hank on red ski slope II offers excellent conditions for devotees to carving skiing. Beginners can learn to ski in our ski and snowboard schools where you will find only certified lectures. If you don´t have your own ski or snowboard then you can use the service of rental offices which are ready to help you. All ski and snowboard rental services offer from 1 to 2 years old equipment. Due to high level of demand we recommend to book required equipment in advance. You can do so online on www.classicskischool.cz. It is possible to book your accommodation in one package with shown services. This provide all hotels and pensions Harrachov. We recommend you to buy a skipass with a discount of 15% and validity for all Ski region Harrachov.
Operating times
General season: late November / early December - early April
Operation: 09:00 - 16:00
_________________________________________________
Ski Resorts
Nice mail from Richard
Dinner with the Folklore
New pictures of cars
Transfer Prague Harrachov