Transfer to ski resort Jested
Transfers from Prague Airport or City Centre.
distance from Prague: 150km (100miles)
duration: 2 - 2,5 hrs depending on the weather and the traffic conditions
Transfer from Prague to Jested (4 passengers)
one way*
2750 CZK (113 EUR / 94 GBP / 165 USD)
return trip**
4950 CZK (203 EUR / 168 GBP / 297 USD)
prices per vehicle (limousine - sedan VW Passat, Skoda Superb, Mercedes E)
Transfer from Prague to Jested (8 passengers)
one way*
3450 CZK (141 EUR / 117 GBP / 207 USD)
return trip**
6250 CZK (256 EUR / 213 GBP / 375 USD)
prices per vehicle (minivan - Mercedes Vito or Viano, VW Caravelle or Transporter)
* that is trip from Prague to Jested or from Jested to Prague
** this means you book transfer to Jested and return in separate days. In the case you go to Jested and will be returning in the same day, the driver will wait for you. Then we will charge 200,-CZK per 1 hour. It is cheaper than book return transfer.
Example: You will arrive at Prague airport at 8am and get to Jested at 10am. You need to be back in Prague at 8pm so you will be leaving Jested 6pm the latest. Then the price will be 3000,-CZK + 8 x 200,-CZK = 4600,-CZK.
Booking of transfer Prague <-> Jested
online booking on this website - after sending reservation form you will get automatic confirmation email. In next few hours a reply from live operator will succeed to. In this message, there will be confirmation (refusal) of your reservation and voucher with all necessary details.
phone booking or sms booking - phone nr. 00420 728 876 876
e-mail booking (you can use this contact form or directly to info@airport-transfer-prague.eu)
Ještěd / Liberec - ski resort and general information
Ještěd Mountain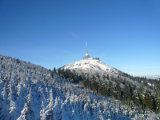 Ještěd is a mountain in the North of the Czech Republic, it is approximately 1.000 m high. It belongs to one of the 10 most prominent Czech Mountains (with its prominence over 500 meters). The hill Ještěd is a part of the National park Jested (I think since 90 ties of the 20th century). Ještěd [jesthed] is known by the Jested TV tower at the top of the hill, which was built in so called "technicist" architectional style, it is also a great observatory tower, thanks to its isolation you can see a great distance and Czech people say that you see "half of the Czech Republic". There is also a hotel and a restaurant at the complex of the Jested tower. The Jested mountain is just a neighbor hill of Liberec city.
Liberec city
Liberec is a district Czech town / city located at the nort part of the Czech Republic, approximately 100 km from its capital city Prague. It has over 100.000 citizen. Liberec is a good place where to stay if you want to try and use some of the popular Czech republic ski destinations in the north mountains (Jizera Mountains which surround the city from east and north) and maybe also Krkonoše (Giant Mountains)
Ještěd / Liberec ski resort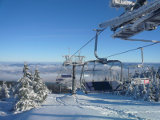 The ski resort Jested / Liberec is located on the slopes of the Jested Hill. Jested ski resort is probably the best accessible ski resort in the Czech Republic (there is a direct tram line conected to the lower part of the ski area). Funiculars (cabins for 38 passengers) lead to the top of the hill and also 9 ski lifts (3 four-chair and 6 two-chair) to the top of the ski slopes.
The ski area Jested used to be rented by a company Snowhill who put a lot of effort to reconstruction and (re)building of the slopes in the 2009 year the property came back to the Liberec municipal company "Sportiiing areal Jested". In the 2009 (from 18th January to 1st February) the Jested ski area guested The 2009 World Championship in the Classical Skiing which contained from 3 disciplines - ski running, ski jumps and the Nordic combination. Particurarly the jumps were guested by the ski jumps of Ještěd ski area.
Ski slopes in Ještěd / Liberec ski resort

Ski slope
Altitude / Difference
Slopes (easy / interm / diffic)
Lifts
Lift ticket
Jested Mountain

540 - 1000 m
460 m
9.2 km (2.5 / 5.9 / 0.8 )
9
CZK 450
€ 18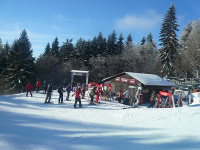 Operating times of Jested ski site
General season: late November / early December - early April
Operation: 09:00 - 16:00
Skiing in the Ještěd ski area is popular ot only because of the good access to the ski area, siers like it also thanks to the complexity and variety of different activities (eg. ski jumps, downhill slopes and cross-country route). Also the close distance to Liberec is good for accomodation and night life (one can prefer city accomodation with easy access to the ski area). Also the view from the Ještěd Tower is a great "free time" activity. Ještěd ski area is one of the few places in the world which you can reach by a city tram (to the bottom stop of the funicular.
The Ještěd ski resort might be not the very best king about its downhill slopes (most of them are little narrow), except the Ještěd piste number 3, which is 9 km long and wide enough and it is one of the most popular ski destination in the Czech republic. What people like the most on the Jested ski resort is, by my opinion, the complexity and the expanse of the resort, you can be entertained by running / skiing from one end of the aea to another one trough different kind of terrains and the landscapes having fun all day long.
I also like the Jested Snowpark which is by quality definetely above the average - every season there are "grown" new kickers, rails, boxes and many other obstackles. So Jested ski area is also very popular for snowboardists. You can also hire some proffessional snowboard instructor and they say that they are one of the best of the Czech Republic right there on the Jested slopes.
_________________________________________________
Ski Resorts
Nice mail from Richard
Dinner with the Folklore
New pictures of cars
Transfer Prague Harrachov