Transfer to ski resort Rokytnice nad Jizerou
Transfers from Prague Airport or City Centre.
distance from Prague: 150km (100miles)
duration: 2 - 2,5 hrs depending on the weather and the traffic conditions
We will gladly transport you from any other destination except Prague, in such a case, call us or send an email to get a quote.
Transfer from Prague to Rokytnice nad Jizerou (4 passengers)
one way*
3050 CZK (125 EUR / 104 GBP / 183 USD)
return trip**
5500 CZK (226 EUR / 187 GBP / 330 USD)
prices per vehicle (sedan / saloon VW Passat, Skoda Superb, Mercedes E)
Transfer from Prague to Rokytnice nad Jizerou (8 passengers)
one way*
3850 CZK (158 EUR / 131 GBP / 231 USD)
return trip**
6950 CZK (285 EUR / 236 GBP / 417 USD)
prices per vehicle (minivan - Mercedes Vito or Viano, VW Caravelle or Transporter)
* that is trip from Prague to Rokytnice nad Jizerou or from Rokytnice nad Jizerou to Prague
** this means you book transfer to Rokytnice nad Jizerou and return in separate days. In the case you go to Rokytnice nad Jizerou and will be returning in the same day, the driver will wait for you. Then we will charge 200,-CZK per 1 hour. It is cheaper than book return transfer.
Example: You will arrive at Prague airport at 8am and get to Rokytnice nad Jizerou at 10am. You need to be back in Prague at 8pm so you will be leaving Rokytnice nad Jizerou 6pm the latest. Then the price will be 3050,-CZK + 8 x 200,-CZK = 4650,-CZK.
Booking of transfer Prague <-> Rokytnice nad Jizerou
online booking on this website - after sending reservation form you will get automatic confirmation email. In next few hours a reply from live operator will succeed to. In this message, there will be confirmation (refusal) of your reservation and voucher with all necessary details.
phone booking or sms booking - phone nr. 00420 728 876 876
e-mail booking (you can use this contact form or directly to info@airport-transfer-prague.eu)
Rokytnice nad Jizerou ski resort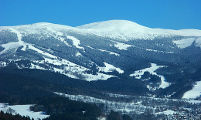 Rokytnice nad Jizerou ski resort is located in the north part of the Czech Republic in west part of Krkonoše [Krkhonoshe] mountains (Giant Mountains) in the region of Liberec / district Semily, in the valley of Hut stream among massifs of the mountains Stráž, Čertova hora and Lysá Hora. The town has the great view of panorama of Lysá mountain and Kotel. Rokytnice nad Jizerou is one of the biggest ski resorts in the Czech Republic, with more than 7 downhill ski slopes with almost 30 km of pistes, 30 ski lifts and two 4-chair lifts.
Ski slopes in Rokytnice nad Jizerou ski resort

Ski slope
Altitude / Difference
Slopes (easy / interm / diffic)
Lifts
Lift ticket
Horní Domky / Lysá Hora

657 - 1315 m
658m
14.6 km (8.6 / 4.7 / 1.3 )
8
CZK 590
€ 23
Modrá Hvězda / Bahýnka

550 - 700 m
150 m
1.1 km (1.1 / 0 / 0 )
4
CZK 290
€ 11
Paseky nad Jizerou

620 - 860 m
240 m
5.1 km (3 / 2.1 / 0 )
5
CZK 440
€ 17
Sachrovka
630 - 730 m
100 m
1.4 km (1.4 / 0 / 0 )
1
CZK ?
€ ?
Studenov
620 - 933 m
313 m
5.6 km (4.3 / 1.3 / 0 )
4
CZK ?
€ ?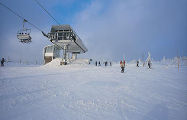 Lovers of downhill skiing, cross-country skiing and also snowboarding will find the area of the resort Rokytnice nad Jizerou very suitable for all the skiing activities. The area is mostly lucky with the quantity and quality of snow (the snow covers the slopes almost 5 months in a year / season) and the maintainers of slopes also cover the hills with artificial snow in the case of lack of snow. There is couple of service providers for downhillskiing, snowboarding and cross-country skiing, ski rentals and skihools who cooperate on the maintenance of the slopes.
Operating times
General season: late November / early December - early April
Operation: 09:00 - 16:00
_________________________________________________
Rokytnice nad Jizerou not only in winter
In other months Rokytnice nad Jizerou offers excellent opportunities for tourists. Marked network of tourist routes is available for hiking as well as cycling. Horní Domky cableway transports bicycles free of charge and saves uphill pedalling.
Horse riding, skittle alley, bowling, go-karts, grass skiing, terrain scooters or mountain climbing guarantee rich experiences. Also fully equipped sports hall, sauna, tennis and volleyball courts are available.
Tourism in Rokytnice nad Jizerou resort

Rokytnice nad Jizerou in summer offers you a wide range of marked tourist trails, which will lead you to the very tops of our beautiful mountains, for example to the Labe spring or to the chalet Dvoračky.
Recently, the number of marked trails for cycling and walking has increased here in our mountains as well You can also go on a nice trip to the hill Stráž or to the Huťský waterfall.
Your attention will by attracted by a late Baroque church of St. Michael or a town hall in Art Noveau style. In our surroundings, you can find castles, ruins, churches, chapels, and museums. Other destinations of your trips can include the zoo and rocks in the nearby Bohemian Paradise.
Ski Resorts
Nice mail from Richard
Dinner with the Folklore
New pictures of cars
Transfer Prague Harrachov