Transfer to ski resort Bedrichov
Transfer prices from Prague Airport or City Centre. For a transfer from a different location, just ask us for a quote.
distance from Prague: 120km (75 miles)
duration: 2 - 2,5 hrs depending on the weather and the traffic conditions
Transfer from Prague to Bedrichov (4 passengers)
one way*
2750 CZK (113 EUR / 94 GBP / 165 USD)
return trip**
4950 CZK (203 EUR / 168 GBP / 297 USD)
prices per vehicle (limousine - sedan VW Passat, Skoda Superb, Mercedes E)
Transfer from Prague to Bedrichov (8 passengers)
one way*
3450 CZK (141 EUR / 117 GBP / 207,-USD)
return trip**
6250 CZK (256 EUR / 213 GBP / 375 USD)
prices per vehicle (minivan - Mercedes Vito or Viano, VW Caravelle or Transporter)
* that is trip from Prague to Bedrichov or from Bedrichov to Prague
** this means you book transfer to Bedrichov and return in separate days. In the case you go to Bedrichov and will be returning in the same day, the driver will wait for you. Then we will charge 200,-CZK per 1 hour. It is cheaper than book return transfer.
Example: You will arrive at Prague airport at 8am and get to Bedrichov at 10am. You need to be back in Prague at 8pm so you will be leaving Bedrichov 6pm the latest. Then the price will be 2750,-CZK + 8 x 200,-CZK = 4150,-CZK.
Booking of transfer Prague <-> Bedrichov
online booking on this website - after sending reservation form you will get automatic confirmation email. In next few hours a reply from live operator will succeed to. In this message, there will be confirmation (refusal) of your reservation and voucher with all necessary details.
phone booking or sms booking - phone nr. 00420 728 876 876
e-mail booking (you can use this contact form or directly to info@airport-transfer-prague.eu)
Bedrichov ski resort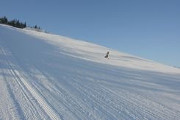 Bedřichov is a small town located at the north of the Czech Republic in Jizerske Mountains. It is one of the most popular ski destinations in the Czech Republic and even if it is the main ski area in the Jizerske Mountains, it is suitable especially for families with children. It has pleasant and calm atmosphere with more than 6 km of ski slopes most of them easy and intermediate difficulty so even beginners are welcome.
In comparison to Krkonoše Mountains (Giant Mountains), the Jizerske Mountains offer more "family" atmosphere and Bedrichov ski area is not as busy as those larger ski resorts like Spindleruv Mlyn in Krkonose or Harrachov in te Jesenik Mountains.
There is totaly 8 ski lifts located in the ski area Bedrichov including a special (lower seated) lift for children. Bedřichov ski area also offers a ski slope for night skiing.
Ski slopes in Bedrichov ski resort

Ski slope
Altitude / Difference
Slopes (easy / interm / diffic)
Lifts
Lift ticket
Bedřichov
700 - 810 m
110 m
6.2 km (5 / 1.2 / 0 )
8
CZK 400
€ 16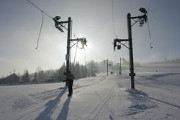 Bedřichov as a ski resort is also popular for cross country skiers. You can use more than 80 km of coss country skiing routes with the famous arterial trail Jizerská Magistrála (Jizeran Highway). Both downhill and cross country slopes and routes are very well maintained and have a lot of atural snow almost 5 months a season, the ski slopes are also covered by the artificial snow (more than 70 % of the slopes).
The ski center Bedřichov is also famous by its annual event of cross country skiing = Jizerská padesátka (Jizerean Fifty) which is a ski race for 50 kilometres and it is very popular in the Czech Republic.
Bedřichov ski resort is very well reachable by the public transport from Liberec. We offer you transfer from Prague airport or Prague city centre directly to the door of your apartment or hotel and in the case that you go and ski in Bedřichov for just one day, your driver will wait for you at the agreed place / parking lot or any other meeting point and will take you back to Prague (airport or city centre).
Operating times
General season: late November / early December - early April
Operation: 09:00 - 16:00
_________________________________________________
Ski Resorts
Nice mail from Richard
Dinner with the Folklore
New pictures of cars
Transfer Prague Harrachov