Transfer to ski resort Vrchlabi
Transfers from Prague Airport or City Centre.
distance from Prague: 150km (100miles)
duration: 2 - 2,5 hrs depending on the weather and the traffic conditions
Transfer from Prague to Vrchlabi (4 passengers)
one way*
3050 CZK (125 EUR / 104 GBP / 183 USD)
return trip**
5450 CZK (223 EUR / 185 GBP / 327 USD)
prices per vehicle (limousine - sedan VW Passat, Skoda Superb, Mercedes E)
Transfer from Prague to Vrchlabi (8 passengers)
one way*
3850 CZK (158 EUR / 131 GBP / 231 USD)
return trip**
6950 CZK (285 EUR / 236 GBP / 417 USD)
prices per vehicle (minivan - Mercedes Vito or Viano, VW Caravelle or Transporter)
* that is trip from Prague to Vrchlabi or from Vrchlabi to Prague
** this means you book transfer to Vrchlabi and return in separate days. In the case you go to Vrchlabi and will be returning in the same day, the driver will wait for you. Then we will charge 200,-CZK per 1 hour. It is cheaper than book return transfer.
Example: You will arrive at Prague airport at 8am and get to Vrchlabi at 10am. You need to be back in Prague at 8pm so you will be leaving Vrchlabi 6pm the latest. Then the price will be 3000,-CZK + 8 x 200,-CZK = 4600,-CZK.
Booking of transfer Prague <-> Vrchlabi
online booking on this website - after sending reservation form you will get automatic confirmation email. In next few hours a reply from live operator will succeed to. In this message, there will be confirmation (refusal) of your reservation and voucher with all necessary details.
phone booking or sms booking - phone nr. 00420 728 876 876
e-mail booking (you can use this contact form or directly to info@airport-transfer-prague.eu)
Vrchlabi ski resort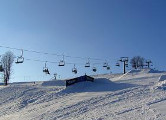 Vrchlabí is a small town located at the north of the Czech Republic. The name consists of two czech words "vrch" (hill or uphill or mountainside) and "labí" which is derived from word / name "Labe" (Elbe) which is the longest Czech river. So practically it means the town is located almost at the spring of Elbe river (about 20 km of it).
Vrchlabí as a Czech Republic Ski resort offers couple of downhill slopes as well as tens of kilometers of cross country skiing routes.
You can enjoy the superior beauty of Spindler Mill the whole year long, from the Spring until the Winter, you can walk, ride a bike or see the landscape from a horse back. In winter the Spindler mill offers one of the best equipped ski resort in the Czech Republic (they say it is only one "Superior" ski resort in the Czech Mountains) with more than 25 km of ski slopes, more than 15 lifts, 3 snowparks and over 85 km of cross-country skiing routes.
Vrchlabí (together with Pec pod Sněžkou and Rokytnice nad Jizerou which are located near to Spindler Mill) are the only one 5 * (five stars) ski resorts in the Czech Republic. There are 3 amazing snow parks (Mísečky, Svatý Petr, Hromovka)

Vrchlabí is the ideal place for a family holiday both in summer and in winter. All the ski schools cater to children, and of course all the hire centres offer a wide range of ski gear for children. If your little ones' legs hurt after too long on the slopes, why not try snowtubing or the sledging track, which is fun for all the family. Another popular option is to relax in the Aqua Park or one of Vrchlabí swimming pools? Špindl has everything.
Ski slopes in Vrchlabí ski resort

Ski slope
Altitude / Difference
Slopes (easy / interm / diffic)
Lifts
Lift ticket
Vrchlabí / Kněžický vrch
557 - 710 m
153 m
8.2 km (5.2 / 3 / 0 )
5
CZK 420
€ 16
Herlikovice / Bubákov
540 - 1019 m
479 m
11.3 km (5 / 4.3 / 2 )
5
CZK 420
€ 16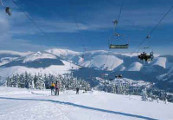 Lovers of downhill skiing, cross-country skiing and also snowboarding will find the area of the resort Špindlerův Mlýn very suitable for all the skiing activities. The area is mostly lucky with the quantity and quality of snow (the snow covers the slopes almost 5 months in a year / season) and the maintainers of slopes also cover the hills with artificial snow in the case of lack of snow. There is couple of service providers for downhillskiing, snowboarding and cross-country skiing, ski rentals and ski schools who cooperate on the maintenance of the slopes. The ski resort Spindler Mill offers capacity over 20.000 skiers an hour!
Operating times
General season: late November / early December - early April
Operation: 09:00 - 16:00
_________________________________________________
Vrchlabí in the summer
In the summer demanding athletes, and also families with children have to offer Vrchlabi a wide range of sports and leisure activities. The range is completed around numerous hiking and biking trails. Among summer activities in the Vrchlabi you can find:
Nordic Walking
Cycling
Tennis courts
Hiking Trails
Ski Resorts
Nice mail from Richard
Dinner with the Folklore
New pictures of cars
Transfer Prague Harrachov