Transfer to ski resort Cerna Hora
Transfers from Prague Airport or City Centre.
distance from Prague: 150km (100miles)
duration: 2 - 2,5 hrs depending on the weather and the traffic conditions
Transfer from Prague to Cerna Hora (4 passengers)
one way*
3050 CZK (125 EUR / 104 GBP / 183 USD)
return trip**
5500 CZK (226 EUR or 187 GBP or 330 USD)
prices per vehicle (limousine - sedan VW Passat, Skoda Superb, Mercedes E)
Transfer from Prague to Cerna Hora (8 passengers)
one way*
3750 CZK (135 EUR / 123 GBP / 170 USD)
return trip**
6750 CZK (277 EUR / 230 GBP / 405 USD)
prices per vehicle (minivan - Mercedes Vito or Viano, VW Caravelle or Transporter)
* that is trip from Prague to Cerna Hora or from Cerna Hora to Prague
** this means you book transfer to Cerna Hora and return in separate days. In the case you go to Cerna Hora and will be returning in the same day, the driver will wait for you. Then we will charge 200,-CZK per 1 hour. It is cheaper than book return transfer.
Example: You will arrive at Prague airport at 8am and get to Cerna Hora at 10am. You need to be back in Prague at 8pm so you will be leaving Cerna Hora 6pm the latest. Then the price will be 3050,-CZK + 8 x 200,-CZK = 4650,-CZK.
Booking of transfer Prague <-> Cerna Hora
online booking on this website - after sending reservation form you will get automatic confirmation email. In next few hours a reply from live operator will succeed to. In this message, there will be confirmation (refusal) of your reservation and voucher with all necessary details.
phone booking or sms booking - phone nr. 00420 728 876 876
e-mail booking (you can use this contact form or directly to info@airport-transfer-prague.eu)
Černá Hora ski resort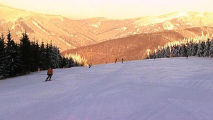 Cerna Hora ski resort is located in the north part of the Czech Republic in Krkonoše [Krkhonoshe] mountains just next to town Janské Lázně not far from town Trutnov in Hradec Králové region. The skiers say it is one of the best ski destinations / resorts in the Czech Republic suitable for both beginners and the most experienced and demanding downhillers. Cerna Hora also has the longest ski slope in the Czech Republic (intermediate slope 5.3 km).
The ski resot Cerna Hora is recently under adynamic development. It is rated together with near ski resorts Špindlerův Mlýn (Spindler Mill), Pec pod Sněžkou and Rokytnice nad Jizerou as 5 star + resorts.
There are 3 main ski slopes in the area of Cerna Hora / Janske lazne, they differ by the lenght, difficulty and also by the number of ski lifts nad other equipment and facilities:
Ski slopes in Cerna Hora / Janske Lazne ski resort

Ski slope
Altitude / Difference
Slopes (easy / interm / diffic)
Lifts
Lift ticket
Černá Hora
600 - 1260 m
660 m
11.3 km (4 / 5.3 / 2 )
13
CZK 620
€ 24
Černý Důl
620 - 865 m
245 m
6.7 km (4.2 / 2.5 / 0 )
8
CZK 550
€ 22
Svoboda nad Úpou
530 - 605
75 m
1.1 km (1.1 / 0 / 0 )
3
CZK ?
€ ?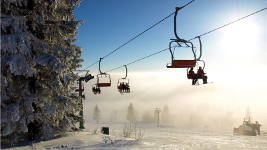 One universal skipass for all ski slopes in Cerna Hora / Spindler Mill and Pec pod Snezkou: you can get one universal skipass valid for all the ski slopes round Cerna Hora ski resort. Concerning the ski facilities the ski resort Cerna Hora / Janske Lazne as the only one in the Czech Republic offers 8 person cabin lifts and totaly almost 20 km of ski slopes with various ski terrains. The terrain for downhill skiing are located on the Southern and Souteastern slopes of the mountains and offer one of the best views from Krkonose mountains. The main slopes are equipped to produced artificcial snow. There are also "training slopes" for beginners and children so every member of family can be satisfied in the Cerna Hora ski resort.
Operating times
General season: late November / early December - early April
Operation: 09:00 - 16:00
_________________________________________________
Černá Hora means Black Mountain in the Czech language.
Janské Lázně means Janske Spa / Bath in Czech
Ski Resorts
Nice mail from Richard
Dinner with the Folklore
New pictures of cars
Transfer Prague Harrachov