Transfer to ski resort Pec pod Snezkou
Airport Transfer Prague company provides fast & safe & cheap transfers to ski resort Pec pod Snezkou from Prague Airport (Vaclav Havel International) or City Center. Return trips are discounted. We provide door to door service 24/7. Book your transfer to Pec pod Snezkou online on this page or call us. Prices from a different location than Prague are negotiable = call us or send us an email.
distance from Prague: 186km (115miles)
trip duration: 2.5 - 3 hrs depending on the weather and the traffic conditions
Transfer Prague - Pec pod Snezkou (1 - 4 passengers)
one way*
3250 CZK (133 EUR / 111 GBP / 195 USD)
return trip**
5950 CZK (244 EUR / 202 GBP / 357 USD)
Prices per vehicle / transfer = not per person
(limousines - sedan VW Passat, Skoda Superb, Mercedes E)
Transfer Prague - Pec pod Snezkou (5 - 8 passengers)
one way*
4050 CZK (166 EUR / 138 GBP / 243 USD)
return trip**
7400 CZK (303 EUR / 252 GBP / 444 USD)
Prices per vehicle / transfer = not per person
(minivan - Mercedes Vito or Viano, VW Caravelle or Transporter)
* that is trip from Prague to Pec pod Snezkou or from Pec pod Snezkou to Prague
** this means you book transfer to Pec pod Snezkou and return in separate days. In the case you go to Pec pod Snezkou and will be returning in the same day, the driver will wait for you. Then we will charge 200,-CZK per 1 hour. It is cheaper than book return transfer.
Example: You will arrive at Prague airport at 8am and get to Pec pod Snezkou at 10am. You need to be back in Prague at 8pm so you will be leaving Pec pod Snezkou 6pm the latest. Then the price will be 3250,-CZK + 8 x 200,-CZK = 4850,-CZK.
Booking of transfer Prague <-> Pec pod Snezkou
online booking on this website - after sending reservation form you will get automatic confirmation email. In next few hours a reply from live operator will succeed to. In this message, there will be confirmation (refusal) of your reservation and voucher with all necessary details.
phone booking or sms booking - phone nr. 00420 728 876 876
e-mail booking (you can use this contact form or directly to info@airport-transfer-prague.eu)
Pec pod Snezkou ski resort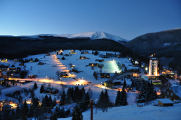 Pec pod Snezkou ski resort is located in the north part of the Czech Republic in Krkonoše [Krkhonoshe] mountains (translated as Giant Mountains into English) in Hradec Králové region almost at the borders with Poland. Pec pod Snezkou is good starting point to Snezka, which is the highest mountain in the Krkonose. It is also known as an active mountain center as a frequent ski resort in winter and also popular tourist destination in the summer season. The destination is lucky with a lot of natural snow which covers the slopes for almost 6 months every year / season.
The ski resot Pec pod Snezkou recently finishes the construction of new funicular / cableway upon the Snezka mountain. Pec pod Sněžkou as a ski resort is rated together with near ski resorts Špindlerův Mlýn (Spindler Mill), Černá Hora and Rokytnice nad Jizerou as 5 star + resorts very popularwith skiers from round the Europe (especially German skiers go to the destination thanks to good prices).
The ski resort offers almost 15 km of the downhill slopes with 12 lifts (2 chairlifts available). The terrain is suitable for both experienced skiers and also for beginners. There are cuple of nursery slopes convenient for families with children.
Ski slopes in Pec pod Snezkou ski resort

Ski slope
Altitude / Difference
Slopes (easy / interm / diffic)
Lifts
Lift ticket
Pec pod Sněžkou
830 - 1215 m
385 m
15 km (5 / 10 / 0 )
12
CZK 620
€ 24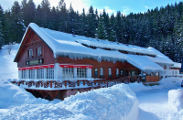 One universal skipass for all ski slopes in Pec pod Snezkou and Cerna Hora / Spindler Mill: you can get one universal skipass valid for all the ski slopes round Pec pod Snezkou ski resort. Concerning the ski facilities the ski resort Pec pod Snezkou as the only one in the Czech Republic offers 8 person cabin lifts and totaly almost 20 km of ski slopes with various ski terrains. The terrain for downhill skiing are located on the Southern and Souteastern slopes of the mountains and offer one of the best views from Krkonose mountains. The main slopes are equipped to produced artificcial snow. There are also "training slopes" for beginners and children so every member of family can be satisfied in the Cerna Hora ski resort.
Operating times
General season: late November / early December - early April
Operation: 09:00 - 16:00
_________________________________________________
Pec pod Sněžkou correct pronounciation is [Pets pod snjezhkou] and would mean Furnace under the Snezka. Snezka mountain is the highest hill in the Krkonoše mountains (elevation 1602 m), the name is derived from the Czech adjective "sněžná" which means "snowy" or "covered with snow". in English. The shape of Sněžka resembles a three-sided pyramid with the steep northern slope sliding to the Polish side.
Ski Resorts
Nice mail from Richard
Dinner with the Folklore
New pictures of cars
Transfer Prague Harrachov