Transfer to ski resort Zelezna Ruda
Transfers from Prague Airport or City Centre.
distance from Prague: 150km (100miles)
duration: 2 - 2,5 hrs depending on the weather and the traffic conditions
Transfer from Prague to Zelezna Ruda (4 passengers)
one way*
3150 CZK (129 EUR / 107 GBP / 189 USD)
return trip**
5650 CZK (232 EUR / 192 GBP / 339 USD)
prices per vehicle (limousine - sedan VW Passat, Skoda Superb, Mercedes E)
Transfer from Prague to Zelezna Ruda (8 passengers)
one way*
3950 CZK (162 EUR / 134 GBP / 237 USD)
return trip**
7150 CZK (293 EUR / 243 GBP / 429 USD)
prices per vehicle (minivan - Mercedes Vito or Viano, VW Caravelle or Transporter)
* that is trip from Prague to Zelezna Ruda or from Zelezna Ruda to Prague
** this means you book transfer to Zelezna Ruda and return in separate days. In the case you go to Zelezna Ruda and will be returning in the same day, the driver will wait for you. Then we will charge 200,-CZK per 1 hour. It is cheaper than book return transfer.
Example: You will arrive at Prague airport at 8am and get to Zelezna Ruda at 10am. You need to be back in Prague at 8pm so you will be leaving Zelezna Ruda 6pm the latest. Then the price will be 3000,-CZK + 8 x 200,-CZK = 4600,-CZK.
Booking of transfer Prague <-> Zelezna Ruda
online booking on this website - after sending reservation form you will get automatic confirmation email. In next few hours a reply from live operator will succeed to. In this message, there will be confirmation (refusal) of your reservation and voucher with all necessary details.
phone booking or sms booking - phone nr. 00420 728 876 876
e-mail booking (you can use this contact form or directly to info@airport-transfer-prague.eu)
Železná Ruda ski resort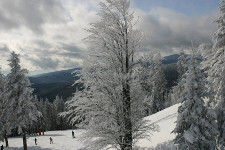 Železná Ruda Špičák is a fairly large ski area suited to most abilities. It is located in western Bohemia close to the German border, together with the sister resort of Železná Ruda. Between them, they offer the best skiing on the Czech side of the Šumava mountains. Železná Ruda Špičák provides 5.5km of tree-lined runs between 880m and 1202m and includes the black run nicknamed Chance that is almost 1km long with plenty of moguls near the bottom. Železná Ruda, 3km down the valley, has a second ski area extending to the summit of Pancir at 1204m and there is a vast network of touring trails through the forests and on to remote summits. Železná Ruda Špičák has seen extensive investment and and new lifts have been added.
Ski centres in Zelezna Ruda

Ski slope
Altitude / Difference
Slopes (easy / interm / diffic)
Lifts
Lift ticket
Špičák

854 - 1202 m
348 m
8.5 km (3.7 / 3.3 / 1.5 )
11
CZK 540
€ 22
Belveder

786 - 866 m
80 m
1.6 km (0.5 / 1.1 / 0 )
4
CZK 450
€ 18
Nad Nádražím

786 - 896 m
110 m
1.6 km (1.1 / 0.5 / 0 )
4
CZK 390
€ 15
Pancíř

860 - 1214 m
354 m
4 km (3 / 1 / 0 )
8
CZK 450
€ 18
Samoty

780 - 900 m
120 m
2.4 km (2.4 / 0 / 0 )
3
CZK 400
€ 16
Do you like to have a wide range of options when you are on holiday? Would you like to enjoy this at a ski resort that literally knows no borders? Then head to the Špičák Ski Resort in Železná Ruda, just a few kilometres from the German border. Here you will find just what you are looking for, whether there will be downhill skis, cross-country skis or a snowboard strapped to your feet and whether you are a complete beginner or a seasoned pro. The backdrop for all this will be the beautiful protracted hills with deep forests of the Šumava Mountains, which is the largest forested area in Europe.

Thanks to many years of cross-border cooperation with the renowned slopes of Großer Arber on the German side (known as Velký Javor in Czech), which is the highest mountain in the entire Šumava range, the Špičák Ski Resort is one of the biggest resorts on the continent outside of the Alps.

Perfect slopes and a fairytale paradise for children - Zelezna Ruda
You can choose from ten main pistes of all levels of difficulty totalling more than 8 kilometres in length. If you are a true champion skier, take the 1.5-kilometre black slope. Špičák offers four less demanding red slopes, and for complete beginners there are six blue slopes – ideal for first-time skiers. The resort features four additional runs, where ski schools are located, and a special Penguinland for the youngest fans of this winter sport. For small visitors there is also a children's ski playground and a baby-lift with a magic carpet, animal figures and other aids to help them in their first ski steps.
Snowboarding or ski touring in Zelezna Ruda
Enjoyment of the great winter experiences at Špičák certainly doesn't exclude snowboarders. If you are just starting out, the ideal place for you is the local FUNpark, which is designed specifically for novice snowboarders and freeskiers. Here you can try easy obstacles such as terrain waves, jumps, boxes and rails. You definitely won't be bored! Do you like night skiing? Špičák also has this covered. You can enjoy evening runs on the Lubský slope. The Špičák Ski Resort also offers all the necessary amenities including equipment rental, ski service and a test centre. You can also use the babysitting service here. What's more, the resort offers plenty for fans of cross-country skiing. There are dozens of kilometres of groomed trails that lead through the beautiful Šumava countryside. The resort also now offers ski-touring, with seven routes of various lengths and difficulty levels in the immediate area.
Where else to go?
Železná Ruda is an excellent starting point for exploring the extraordinary beauty of the Šumava National Park. You can walk or ski to the Čertovo and Černé glacial lakes, which are among the most beautiful locations in the entire park. If you like fairytale cities, take a trip to Český Krumlov. Its charming historical centre with the second largest castle in the Czech Republic is one of the most valuable complexes inscribed on the UNESCO World Heritage List.
Ski Resorts
Nice mail from Richard
Dinner with the Folklore
New pictures of cars
Transfer Prague Harrachov